NOTE - Knox Workspace unlock using Active Directory (AD) will be deprecated in Knox v.3.4.1.
Environment
Knox Platform for Enterprise (KPE)
Knox Workspace
Microsoft Exchange ActiveSync
How do I manage Knox Workspace containers using Microsoft Exchange ActiveSync?
Microsoft Exchange ActiveSync (EAS) is a synchronization protocol that enables mobile device users to access email, calendar, contacts, and tasks from their organization's exchange server. But what is less commonly known is that IT admins can use their exchange server to manage Knox container apps and policies.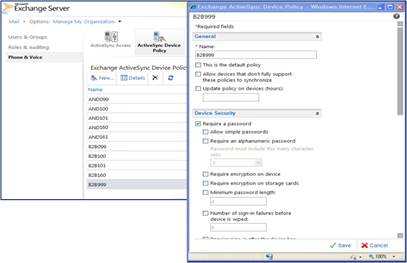 Advantages of using EAS inside the Knox container
You can set up EAS accounts in both the personal environment as well as the Knox container. The main reason why you should configure it inside the Knox container is to prevent data leakage.
Let's say you set up an EAS account in the personal environment. When you download an email attachment or file and store it in the internal memory or SD card:
The file is not encrypted by default.
The file can be freely accessed by any app downloaded from Google Play
The unsecured file is vulnerable to unauthorized distribution by malicious apps
The SD card can be stolen, or the file can be transferred to a PC through USB.
On the other hand, setting up an EAS account inside the Knox container lets you avoid these potential security issues. With email attachments that are saved in the Knox container:
The file is encrypted by default.
The file is protected by SE for Android, and cannot be accessed by apps downloaded from Google Play into the personal space or distributed by malicious apps that do not have the proper authorization.
The file cannot be saved to an SD card or transferred to a PC through USB.
Managing policies for the Knox container
Typically, IT admins use a third-party EMM solution to manage devices and Knox containers, using a full complement of supported policies. EAS is another tool available to IT admins. One scenario is if EAS is already configured for a wider range of device platforms in an enterprise, IT admins can use EAS to push policies to all configured platforms.
Through EAS, IT admins can perform these selected functions 'inside' the Knox container:
Container management
EAS policies: set the policy refresh interval, require manual sync when roaming
Password policies: enable policies, set expiration, set min length, set alphanumeric requirement, set max failed attempts
Data encryption: in transit (SSL), at rest
Device lock after inactivity
Remote lock and wipe of Knox container
Resource management
Browser: allow/disallow
Camera: allow/disallow
E-mail: allow/disallow personal POP or IMAP accounts, HTML e-mail
Email management
Encryption: allow S-MIME encryption algorithm negotiation, soft certs, signed S-MIME algorithms/messages
Attachments download: allow/disallow
Maximum attachment size (default is unlimited)
Maximum email age filter, body truncation size
Policy refresh interval
All other EAS policies cannot be managed in the Knox container. These include password recovery, password reset (the password must be reset through an EMM), Bluetooth/Wi-Fi access, Internet sharing/tethering, IrDA, text messaging access, and storage card access.
Related articles
For more information about:
Exchange ActiveSync - see Microsoft Technet > Exchange ActiveSync.
Knox containers and how the preloaded email, calendar, and contacts apps work - see the Knox User Guide (enterprise or personal edition) on the Knox web portal > Support page.