The Samsung Knox warranty bit is a security feature that detects if unofficial software has been installed on your phone. This helps prevent malicious attempts from accessing your data.
The Knox Warranty Bit detects if a non-Knox kernel has been loaded on the device. It is a one-time programmable bit e-fuse, which can only be turned from 0X0 to 0X1 (i.e. tripped). If a non-Knox boot loader or kernel has been installed on the device, Knox can no longer guarantee the security of the Knox container. As a result, the Warranty Bit is tripped to 0X1, indicating that this device can no longer use the Knox Workspace (container.)
If the Knox bit has tripped:
A new Workspace can no longer be created on such a device.
The data encrypted and stored in an existing Workspace can no longer be retrieved.
Other Samsung services that utilize Knox security stop working (Samsung Pay, Secure Folder.)
Everything else outside the Workspace should be the same as before.
To check whether the Warranty Bit has tripped, follow these steps:
Power off your device.
Once off, simultaneously press the volume down, home, and power button.
When warning screen is displayed, press the volume up button.
The Warranty Bit status is displayed in upper left hand corner.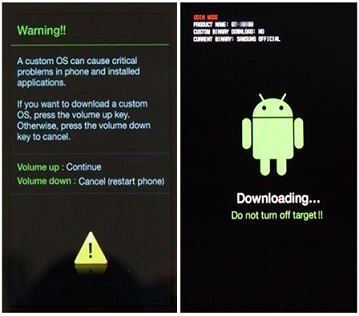 If the Warranty Bit is tripped, the device displays Knox WARRANTY VOID: 0x01.
If that is the case, there is no way to revert the Warranty Bit and Knox won't work on this device. The only way to get the device back to its original settings is to replace the PBA (Printed Board Assembly) on the device; hardware replacement will be required.
For more information: